Reborn
Scarfaith
No.
83
Update
26/5/2016
Unlock
Rank 2

Difficulty
Casual
Normal
Hard
Mega
Giga
Level
2
4
8
12
-
Notes
213
240
449
741
-
BPM
129
Length
1:58
Genre
Trance
⇚ Prev Song
Next Song ⇛
Requires Rank 2 to be unlocked.
This song is From Zyon as part of the ZHD collaboration project.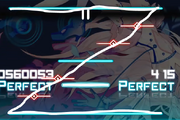 This song also is Zyon opening BGM.
This song and Starting Line [1] from Hachi Hachi have the same cover art of the Song's gameplay.
In all difficulties, there will be a group of notes near the middle that resemble the letter "Z", likely referencing the ZHD collaboration project or Zyon the rhythm game name. 
External Links
Edit
↑ More Information About Starting Line. Hachi-Hachi Wikia