Rave-olution
Edwin K
No.
5
Update
30/10/2014
Unlock
Rank 6

Difficulty
Casual
Normal
Hard
Mega
Giga
Level
3
4
7
-
-
Notes
321
323
564
-
-
BPM
140
Length
1:45
Genre
Rave
⇚ Prev Song
Next Song ⇛
Sides

Left
Right

MIXER

PAD
Requires Rank 6 to be unlocked.
The Hard difficulty of this song is the first song in Wave Test 01 Class 4-VB1.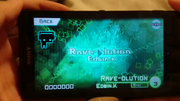 This song had a different cover art in the BETA version.
The background effect of this song is that green diamonds/squares are spreading throughout the cover art from the center.
Rave-olution's genre is found in its name: Rave-olution.