Leviticus
Epiglottic
No.
7
Update
30/10/2014
Unlock
Rank 10

Difficulty
Casual
Normal
Hard
Mega
Giga
Level
2
5
8
-
-
Notes
280
430
710
-
-
BPM
135
Length
2:28
Genre
EDM
⇚ Prev Song
Next Song ⇛
Sides

Left
Right

MIXER

PAD
Requires Rank 10 to be unlocked.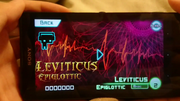 This song had a different cover art in the BETA version.
The Book of Leviticus [1] is the third book of the Jewish Bible and of the Old Testament; its Hebrew name comes from its first word vayikraˈ, "He [God] called." The English name is from the Latin Leviticus, taken in turn from Greek and a reference to the Levites, the tribe of Aaron, from whom the Kohanim ('"priests") descended.
External Links
Edit